Empower your sourcing: Save time. Save cost. Source sustainably.
We enable buyers to source garments, fabrics, components and home textiles faster, smarter, safer, and more sustainable. Join the largest industry network.
Get started
Trusted by

40K+ users:
What you can do on Foursource
Find a new supplier
Access the world's largest B2B sourcing platform for apparel, fabric, trims, yarns and home textiles sourcing.

Save time, effort, and costs by finding new business partners online without traveling.

Explore verified company and user profiles with trusted information and directly get in touch.

Bookmark and send connection requests to potential business partners and leads.
Explore network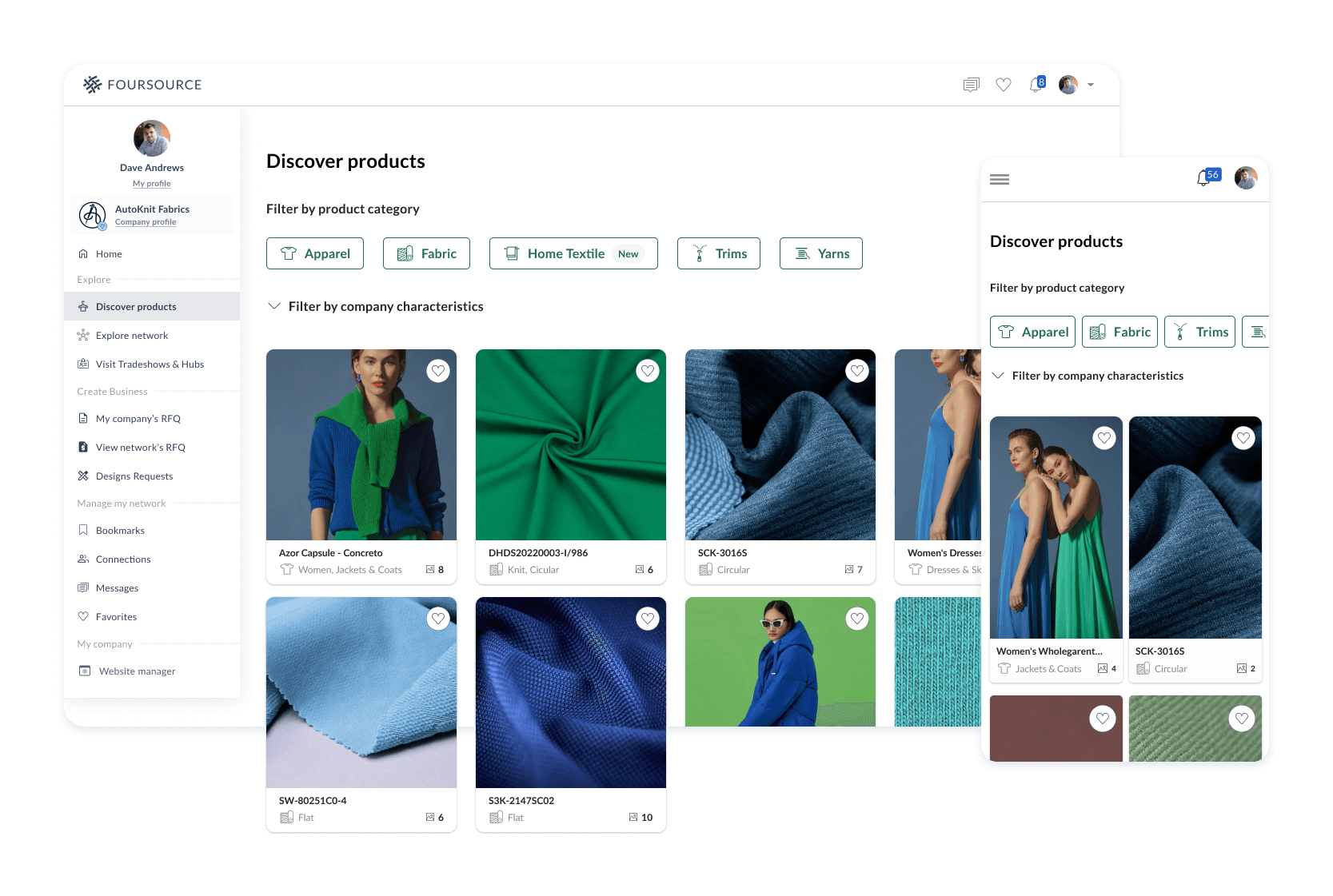 Request and Compare Quotes
Create targeted requests for quotations to find the best partner for your project.

Receive various proposals to get your targeted price and quality.

Find out what your product would cost with a different supplier or even in another country.

Save valuable time and resources that would otherwise be spent on extensive research and negotiations.
Start sourcing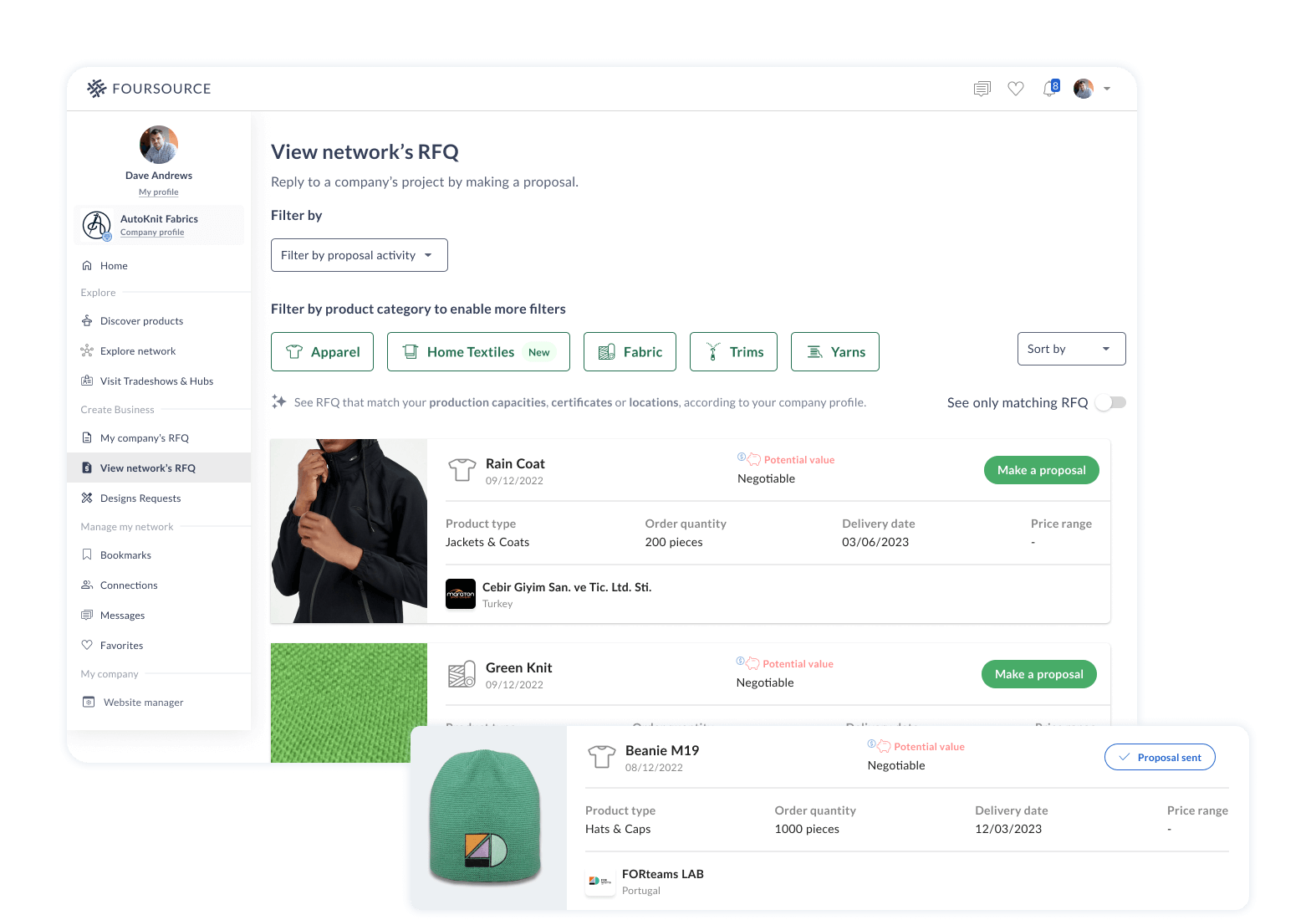 Request Designs for Your Next Collections
Request designs for individual products or an entire collection.

Include one or multiple product categories in a single design request.

Review multiple design proposals to find the perfect fit for your business.

Request the price of the design once you´re satisfied with the final proposal, ensuring cost-effective decision-making.
Create design request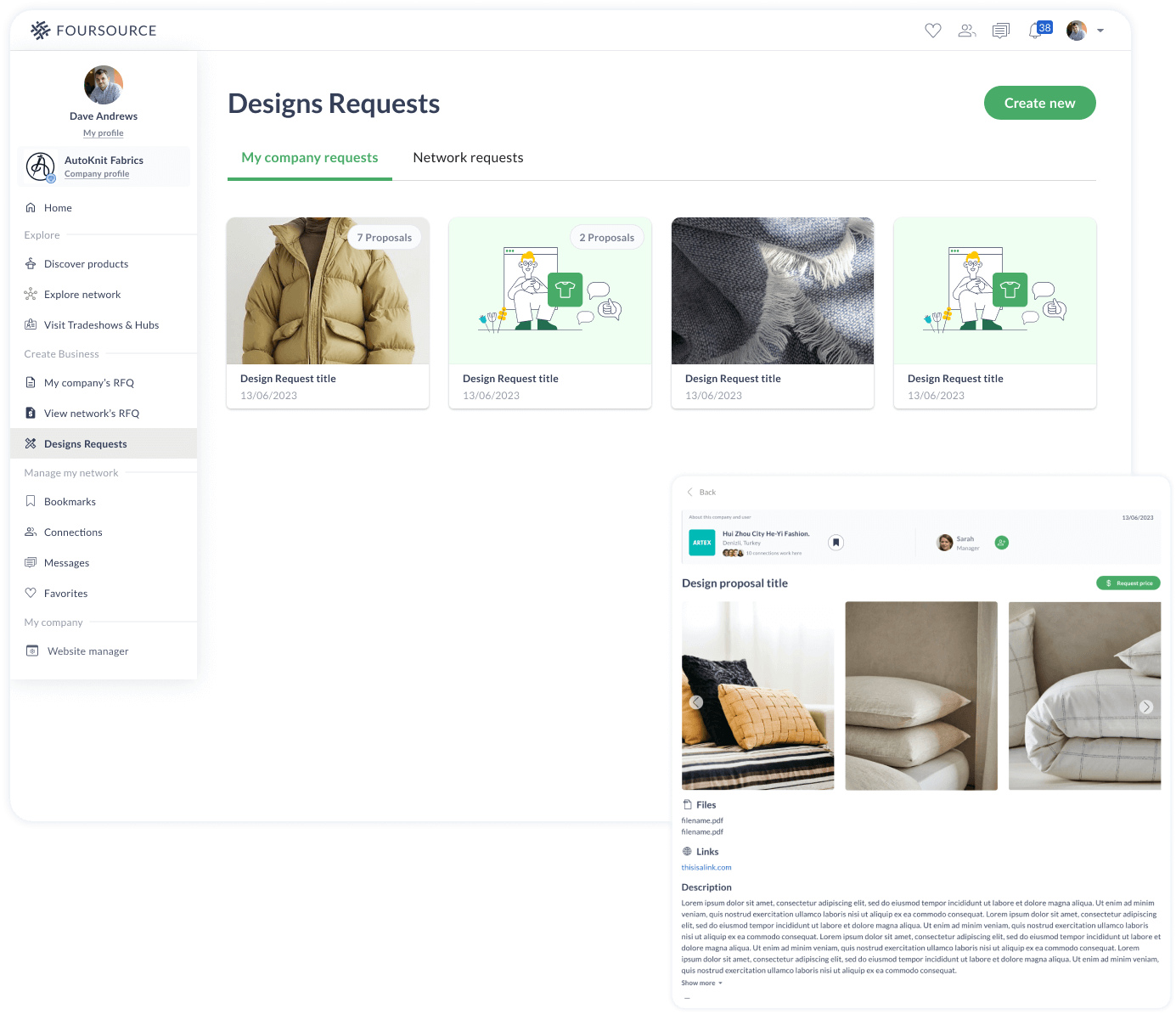 Request Prices While Exploring Products
Streamline your purchasing process by effortlessly requesting and receiving pricing information.

Explore supplier´s digital showrooms with ease and convenience. Browse through products and request prices.

Request accurate pricing by providing specific order details such as total quantity, unit, delivery requirements, expected delivery date, and any additional details.

Receive an immediate notification the moment your price request is answered by the supplier.
Discover products and request prices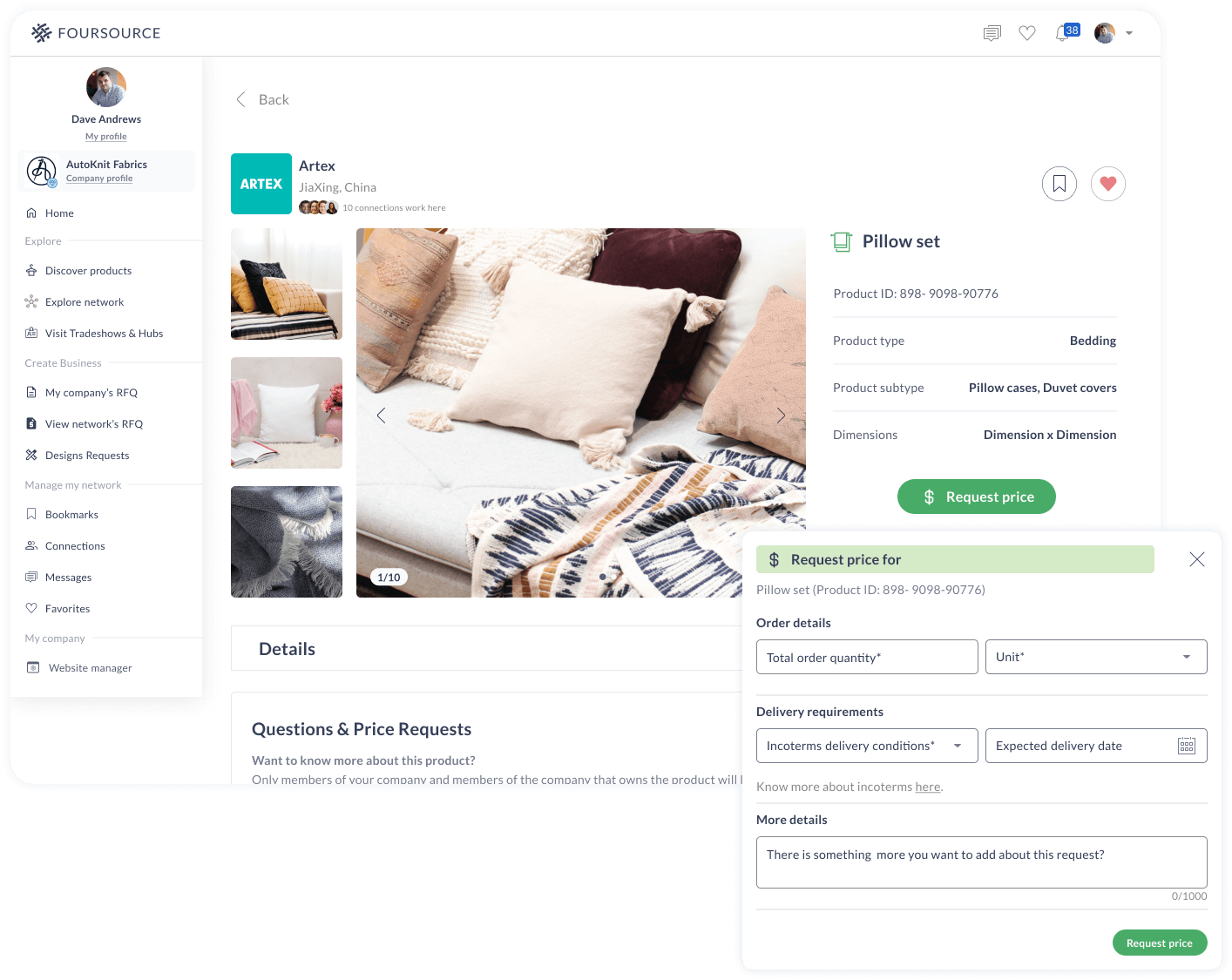 Source Sustainably
Search for sustainable manufacturing companies. Make informed decisions about your supply chain.

Gain knowledge about various compliance certificates and standards related to sustainability.

Track the validity of your supplier's certificates with up-to-date data.

Save time by efficiently reviewing verified compliance certificates on the platform.
See products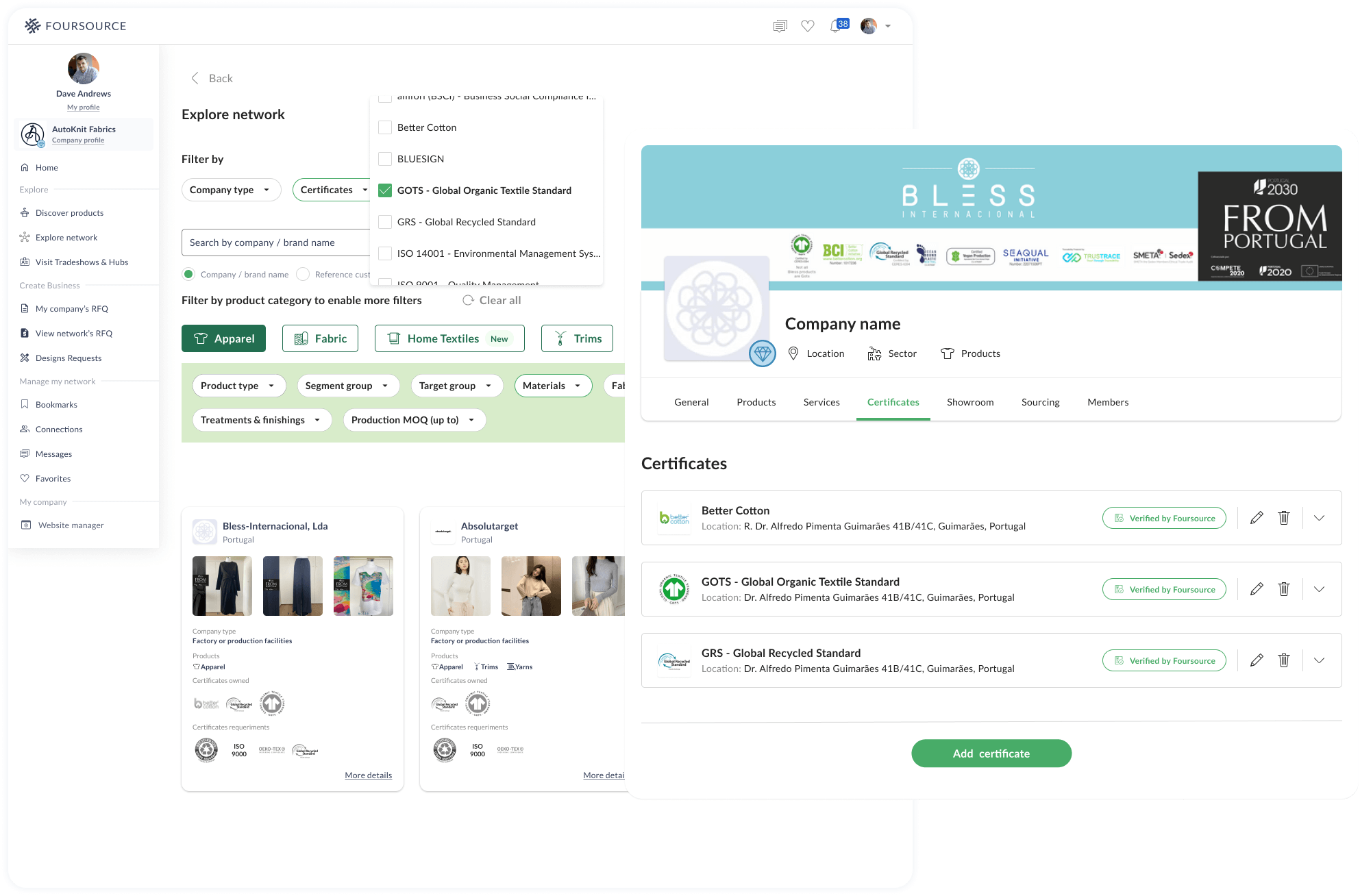 Trusted by Businesses

40K+ users: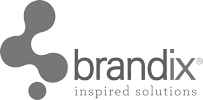 Why People Trust Us
Voices Of The Industry
"With FOURSOURCE we've gained an important cooperation partner to extend the ISPO digital services to the sourcing world and accelerate the supply chain in performance textiles."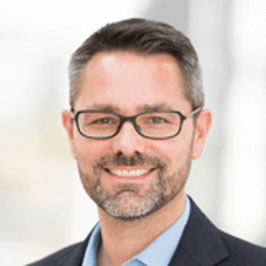 "The only sensible way forward for our industry is collaboration and partnership. FOURSOURCE is a great tool supporting transparency, trust and direct connection between manufacturers and buyers."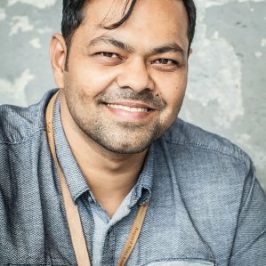 Mostafiz Uddin
Bangladesh Apparel E.

"The platform not only provides a guide for buyers, but also gives manufacturers the opportunity to find out what buyers are interested in."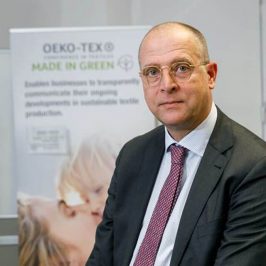 Try For Free
Join Now And Start Sourcing