Foursource As A Daily Tool For Lead Generation And Sales
TurkishMade.co
TurkishMade.co, headquartered in Istanbul that serves with wide production and sourcing options with customized, ethical and global approach for women-men-kids wear. They give high importance to fabric selection and the sample process to have a successful, on-time mass production process. They follow all the innovative approaches and developments in the fashion industry and use that developments in their production. Providing wide and effective workplaces for the wellbeing of their team is key because they believe the team work. Manufacturing process happens in high-technology facilities with reliable infrastructure.
Skip to the results
Challenges
Spending a lot of time and money on business trips to meet potential customers so the TurkishMade.co team was in search of an online B2B platform. The TurkishMade.co team was searching for a platform that could help them anticipate and prepare for the trends of the upcoming seasons and to evolve their business into digitization.
Finding & Using Foursource
They discovered Foursource through searching online for a platform solution they could use. After catching some opportunities from the Free plan, TurkishMade.co decided to upgrade their account to Growth and stopped using other platforms altogether.

Request for Quotations is the team's most used and favorite feature. With this feature, the TurkishMade.co team can reply to the requests that they think are a good fit for their brand and business. With the Explore Network feature, they also use the country filter to target their export markets and for lead generation. To make a great first impression with buyers, TurkishMade.co makes sure their digital showroom is up to date, and that each item in their collection is presented in the best possible way.

TurkishMade.co is very pleased with the results they get from Foursource. Ozlem tell us that the buyers are active and genuine and that with Foursource as an effective collaboration tool, they were able to improve their teamwork significantly.
The Results
11% conversion rate
Completed 6 POs
Saved 150k Turkish Lira per year
Prepared for the trends of the upcoming seasons
Foursource is integral to lead generation and sales processes
Favorite Features
Best feature:
Request for Quotations and Explore Network

Best thing about Foursource:
"Foursource has a valuable network of new customers globally!"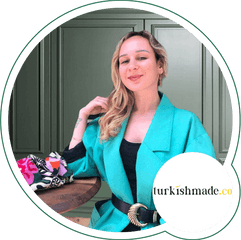 Foursource is a trustworthy platform, valuable network of new customers globally. It helps us to anticipate and prepare ourselves for the trends of the upcoming seasons and improve ourselves! After seeing the potential of Foursource, we have integrated it into our daily work. The reason we upgraded our Foursource membership to a Growth account is that it's a platform that gives us so much confidence!
Ozlem Sahin Ertas
Owner of TurkishMade.co