Nexgen Sportswear Now Prefers Foursource Over Any Other Sourcing Platform
How NexGen Sportswear accomplished successful results in less than a month of its membership
NexGen Sportswear
NexGen Sportswear is a Pakistan-based company that is manufacturing quality products for well-known brands. This company is specialized in custom designs and can provide quality samples at your request.

NexGen Sportswear has a clear vision to make quality products and make them available to the entire world at wholesale prices. Being a business-oriented family, NexGen Sportswear has access to all the resources that help them to make each product perfect and to deliver the order in committed time.
Skip to the results
Challenges
Before Foursource, NexGen Sportswear would use a platform that had very limited access to RFQ's. The member could not connect with as many buyers as he wished, consequently leading to fewer business opportunities. Since becoming a Growth member of Foursource, NexGen Sportswear get unlimited access to requests from buyers.
Why Foursource?
NexGen Sportswear now prefers Foursource over any other sourcing platform. We asked Mr Ahmad how Foursource optimized his experience as a supplier on a daily basis. He explained that the best part of using Foursource is that, as a member, you receive a dedicated account manager that is always there to help you. The fact that this platform is utterly easy to access anywhere and user-friendly was also a turning point for his decision. By having unlimited access to RFQ's, which was something that he did not have before using Foursource, Mr Ahmad is connected to more buyers and loves how through these detailed and "unlimited" RFQ's he knows exactly what a buyer is looking for, and can provide a more adequate approach to the client.
The Results
3 new European buyers: Holland, Germany and Ireland
+ 2 new recurring customers in Holland and Germany
Made new business in the first month
Higher response rate due to more detailed RFQ's
Favorite Features
Best feature:
Requests for Quotation (RFQ's) because suppliers immediately know what buyers are exactly looking for.

Best thing about Foursource:
Easy to access anywhere and user-friendly application.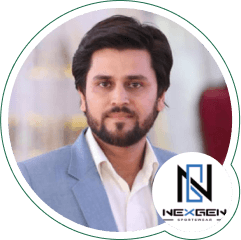 I love how they have a specific process of everything from the point you join the platform to the point you become a professional member. The best part is, they have a dedicated account manager who is always there to help you after you become a pro member.
Mr Fawad Ahmad
Owner