Less Travel, More Business
By responding to buyer requests online Araújo Irmãos increased their business and saved costs
Araújo Irmãos
Established in 1978, Araújo Irmãos. is a company known for its high-quality product with exports to markets like Germany, Italy, France, Belgium, United States of America, Spain, and England.

Constant innovation and sustainable development are the pillars of the company - being self-sustaining and transforming raw materials into high quality finished garments. Araújo, Irmãos, Lda take a different stance as employers, providing regular training and creating dedicated spaces for their 120+ employees to improve their workspace and work experience. Araújo, Irmãos oversees the entire production cycle in its own facilities, quality and confidentiality from design to delivery is guaranteed.
Skip to the results
Challenges
Before Foursource, Araújo Irmãos, used costly methods of finding new customers such as hiring agents and visiting trade shows. The company decided that it was time to explore new, digital and less expensive methods for acquiring new leads and growth.
Finding & Using Foursource
Foursource is the only platform that Araújo Irmãos uses - and they are so happy with how it is going they do not plan to change that!

We asked Mr. Peixoto how he uses Foursource in day-to-day context. He explained that the Business Opportunities page, in which you can see the most recent buyer searches and product requests, is his favorite feature. By regularly checking for new buyer activity in the business opportunities page, he was able to react quickly and get in touch with brands. This quick reaction impressed people and Mr. Peixoto received a high quantity of replies. Araújo Irmãos is now exclusively using Foursource to find new business.
The Results
Return on Investment of over 100k EUR
Saved more than 10k EUR on travel expenses
Gained 3 new recurring customers from Germany, Spain, and the Netherlands
Favorite Features
Best feature:
Business Opportunities to be able to react quickly to buyer activity

Best thing about Foursource:
"Easy to engage with new buyers"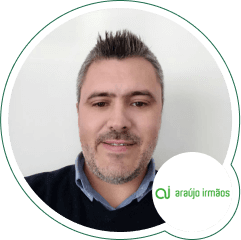 Since joining we have saved a lot of time and money - especially on travel costs. Foursource is the only platform we are using now, and we are not thinking about changing as the results are great!
Mr. Pedro Peixoto
Commercial & Marketing Manager