How Seyfeli Turned Potential Customers Into Recurring Business
Taking a transparent & trust building approach to messaging buyers online!
Seyfeli Dis Tic Ltd Sti
(Seyfeli Textile)
Seyfeli Textile, founded in 1997, is a family owned company and is one of the most experienced manufacturers in the Izmir area in Turkey. The company has been GOTS certified since 2002, as well as many more certificates and 70% of their production consists of organic cotton products. All processes (except print, embroidery, etc.) are done in-house. Seyfeli Textile's production capabilities and expertise allow the company to produce circular knit ready-wear garments. Their production focuses on casual wear and sportswear products for men, women (including maternity wear) and kids.
Skip to the results
Challenges
Due to the Covid-19 travel restrictions, Seyfeli could no longer attend face-to-face meetings. Instead, they turned to Foursource to continue connecting with new buyers.
Finding Foursource
Seyfeli have been a member of Foursource since 2017 and recognizing the shift towards digital sourcing they upgraded to a Professional membership in July 2020. They brought their knowledge and experience about how to approach customers and secure deals in face-to-face environments, and adapted it to digital sales and marketing on Foursource - with great results!

So, what did they do? On a weekly basis updating their showroom with new images and new styles. Plus, they check the Business Opportunities page for new potential customers at least once a week and when there is an interesting opportunity, they send a contact request to the buyer.
The Results
New recurring customers with order volume 10k- 20k pieces
Revenue 3% of yearly revenue for 2021 ($8 million yearly value)
Buyer messages reply rate of 24.5%
In their forecast, Seyfeli expects this turnover and quantity to double by the end of the year. "as we continue to work with our customers, this number and turnover is of course constantly increasing."

They told us that they're key to success on Foursource is in their communication style on messaging for which they achieved a whopping 24.5% reply rate. Their key tip to other manufacturers using Foursource is to build trust with every buyer first! Be fully transparent from the beginning of each conversion about what can be done and what cannot, this avoids lengthy answers, explanations and queries that delay the process and break-down the relationship.
Favorite Features
Best feature:
Messaging - with a whopping reply rate of 24.5%!

Best thing about Foursource:
"Good customers - buyers that are using Foursource are of good quality and there are a lot of well known brands using it too!"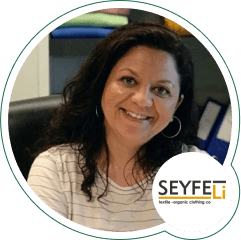 Foursource is a great networking platform for the industry. During Covid-19, everyone jumped into digitalization - that's why the success stories will continue. It allows companies to be more flexible and easily find new customers. It makes our life easy!
Eser Yaratan
VP, Marketing & Sales Manager